Hanoi might be famous for its impenetrable walls of Vespas, but the city isn't quite as chaotic as it's chalked up to be.
Wandering about the capital of 
Vietnam
, travelers expecting a wild urban adventure might be pleasantly surprised to also find quiet, leafy streets and hidden coffee shops.
One of the most charming aspects of the city is the plethora of restored neoclassical and Gothic architecture — a holdover from the city's stint as a French colony from 1883 to 1954.
It's easy to romanticize the era, given the beautiful remains, but it's worth remembering that this was a difficult time for Hanoi, afflicted with opium addictions and oppression.
Despite the turbulent history, the resulting architecture is worth admiring. One way to experience it is with a stay at one of the city's many boutique hotels.
Located in Hanoi's Old Quarter — a network of 36 streets, organized by trade — these quaint addresses combine modern amenities with historic atmosphere for an authentic homebase while exploring the city. Here are eight of the best:
1. Hotel de l'Opera
From Hotel de l'Opera Hanoi
As its name suggests, Hotel de l'Opera is just a few steps from the beautiful Hanoi Opera House, which regularly hosts ballet, music and folk performances.
The largest of its kind in Vietnam, the theater features a neo-classical French facade, imposing pillars and majestic interiors.
On the same leafy boulevard, the 107-room Hotel de l'Opera is set in its own white colonial-era building.
Inside the stately doors, guests will find high ceilings, silk drapes, classic furniture, theatrical pops of color and big-name designer boutiques downstairs — think Max Mara, Prada and Louis Vuitton.
Each room has a slightly different layout and design. Rest assured, however, that all four l'Opera Grand Suites offer views of the Opera House.
Within minutes of leaving the hotel, guests will discover the city's central lake, bustling Old Quarter and countless bars and restaurants.
2. La Siesta Central Hotel & Spa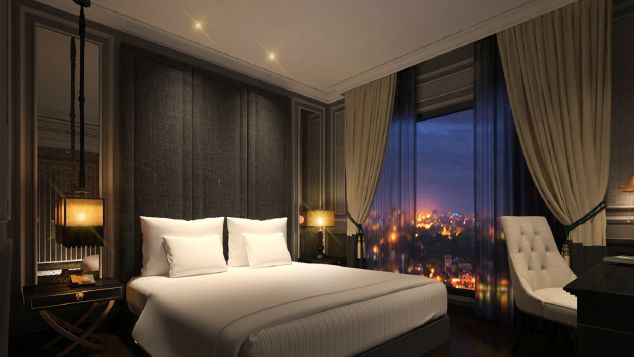 From La Siesta Central Hotel & Spa
A new address in Hanoi, La Siesta Central Hotel & Spa opened earlier this August in the historic Old Quarter, near photogenic Hoan Kiem Lake.
The 27-bedroom property showcases lake views from 19 of its rooms, and also features a fine-dining restaurant, a sunset rooftop bar and a spa that emphasizes Vietnamese therapies.
The building itself is newly constructed in the colonial style. Inside, the hotel pays tribute to the city's French heritage — picture dark-wood paneling, black-and-white patterned tiles, wrought-iron furniture, romantic balconies and classic monochrome artwork peppering the hallways.
With the Old Quarter just steps away and the peaceful lake at your doorstep, this is one of the best locations in Hanoi.
3. O'Gallery Premier Hotel
Conveniently located inside Hanoi's Old Quarter, the O'Gallery Premier Hotel can be spotted by its narrow, colonial-style facade awash in green paint.
The green accents continue inside where pops of emerald bring classically furnished rooms to life.
Each of the 55 rooms and suites include sophisticated touches, such as wood-paneled walls, velvet furniture, leather stools and generous amenities — such as complimentary early check-in.
cnn